Welcome to the 4th IPM Podcast for Field Crops of 2020. Subscribe to the podcast and never miss an episode on iTunes, Google Podcasts, and Spotify.
This Podcast is sponsored by the UMN Extension Integrated Pest Management (IPM) Program. In this week's podcast, we feature Dr. Debalin Sarangi, who was recently hired as an Associate Professor in the Department of Agronomy and Plant Genetics and as an Extension Weed Scientist at UMN.
He discussed some of his background in weed science working in Wyoming, Nebraska, and Texas before coming to Minnesota, and he outlined his research plans and current activities he's been working on in the state.
Herbicide-resistant weeds such as waterhemp continue to be a major concern for farmers, and invasive species such as Palmer amaranth pose additional threats if they become established. Integrated weed management will be vital for managing these weeds as resistance issues continue to occur. Dr. Sarangi is currently conducting a survey for weed samples across the state that are suspected to have herbicide resistance.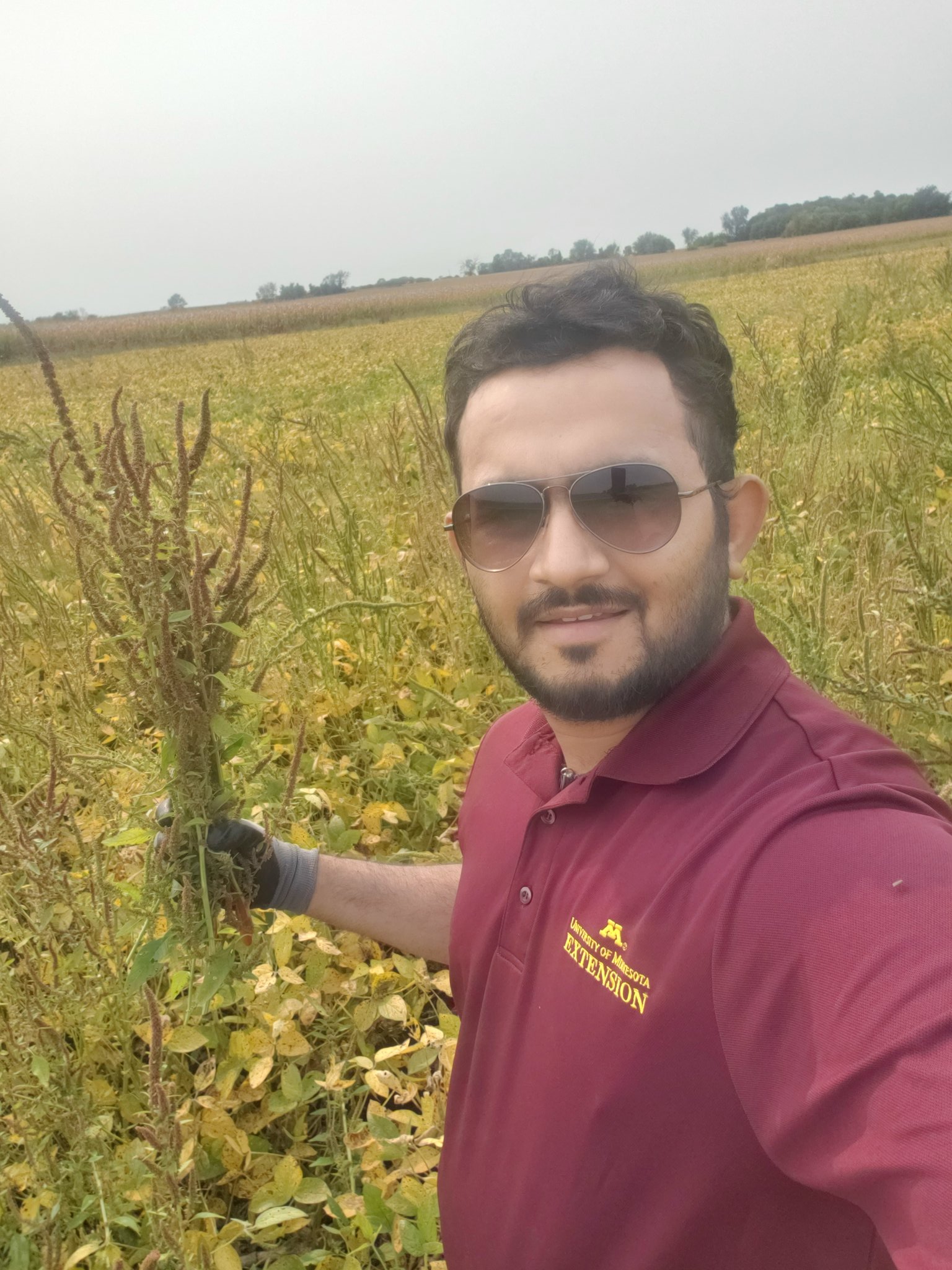 Dr. Debalin Sarangi scouting weed escapes in soybean.

If you have weed escapes you suspect may have herbicide resistance, more information on joining the survey and sending in samples is outlined in another MN Crop News post: Herbicide-resistant weed screening survey in agronomic crops. Seed from these weeds will be grown in greenhouse screenings to test for herbicide resistance to give individual growers recommendations and to produce distribution maps of where resistance is occurring.
Please send your samples and background information on the samples to this address:

Debalin Sarangi
411 Borlaug Hall
1991 Upper Buford Circle
St. Paul, MN 55108
If you have questions, please contact Debalin Sarangi, Extension weed scientist at dsarangi@umn.edu or 612-625-8130.

This podcast was hosted by Dr. Anthony Hanson, Extension Post-Doctoral Associate. The purpose of the IPM podcast is to alert Growers, Ag Professionals and Educators about emerging pest concerns on Minnesota field crops. We also review recent pest trends and research updates.

Click here to listen to the podcast

For IPM Program updates, visit the UMN Extension IPM website.